Free Recipe: AWW Diabetes The Complete Collection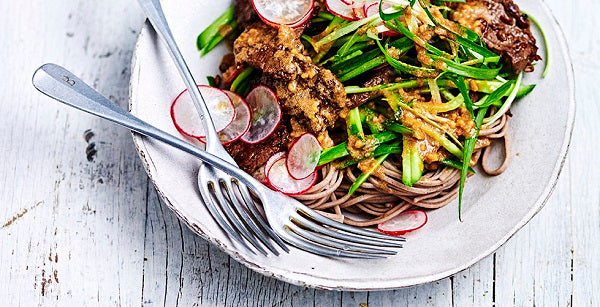 Winter calls for comfort food and if you're facing a lockdown as well as winter, you definitely need some comfort. Contrary to popular belief, comfort food can also be healthy food. The Australian Women's Weekly Diabetes The Complete Collection can show you how. It is the ONLY book you need to get you through winter (and the rest of the year).
The joy of cooking in winter can't be underestimated – think low temperatures, long cooking times and maximum flavour. Think of hearty dishes that warm you from the inside out and delicious desserts that put a smile on your lips rather than an inch on your hips. The Australian Women's Weekly Diabetes The Complete Collection is a compilation of the most delicious and successful recipes to come out of the Women's Weekly Diabetes series of cookbooks. There are over 150, triple-tested, recipes just bursting with flavour to try. And don't worry, we know winter only lasts a month or two, this collection is divided into cooler and warmer days so you're covered for the rest of the year. It additionally offers eating plans for people looking to lose weight, those with gestational diabetes and people who need gluten-free inspiration.
To help you look after yourself this winter we've chosen one of our favourite recipes from the collection for you to try for free. Instead of a traditional winter casserole, this beef and noodle recipe will brighten up a dark night with some spice, heat and colourful crunchy veggies, all served in a delicious creamy dressing.
Sichuan beef noodles with creamy sesame dressing
prep + cook time 25 minutes (serves 4)
Ingredients
2 teaspoons sichuan peppercorns
400g (12½oz) beef eye-fillet, sliced thinly across the grain
2 teaspoons reduced-salt
gluten-free soy sauce
2 teaspoons sesame oil
200g (6½oz) buckwheat
soba noodles
2 teaspoons vegetable oil
250g (8oz) baby cucumbers,
cut into matchsticks
1 bunch red radishes (500g), trimmed, sliced thinly
4 green onions (scallions),
cut into matchsticks
2 tablespoons rice wine vinegar
2 tablespoons water
1 tablespoon reduced-salt
gluten-free soy sauce
1 tablespoon natural crunchy peanut butter (see tips)
1 tablespoon maple syrup
2 teaspoons tahini
2 teaspoons sesame oil
2 teaspoons sriracha (see tips)
Method
Crush peppercorns coarsely using a mortar and pestle; transfer to a medium bowl. Add beef, soy sauce and 1 teaspoon of sesame oil; toss to combine.
Make creamy sesame dressing.
Cook soba noodles in a large saucepan of boiling water according to packet directions. Rinse under cold water; drain.
Heat a large wok over high heat. Add vegetable oil and remaining sesame oil; stir-fry beef, in batches, for 2 minutes or until browned all over. Transfer to a large bowl.
Combine noodles, cucumber, radish and green onion in a large bowl. Add 2 tablespoons creamy sesame dressing; toss to coat.
Divide noodle mixture and beef among four bowls. Drizzle with remaining dressing.
Creamy sesame dressing 
Place ingredients in a small bowl; whisk until smooth. (Makes 2/3 cup.)
Tips:  Use a salt-reduced brand of natural peanut butter. Sriracha, also known as 'rooster sauce' because of the picture on the bottle, is named after the city in Thailand where it was produced, Si Racha. This hot, tangy, chilli sauce adds a spicy kick to recipes.
Nutritional information per serve:
Energy                 1873kJ
Total fat                17g
sat fat                   3.4g
Carb                     46.9g
Protein                 26.8g
Fibre                     7.8g
Sodium                 439mg
Disclaimer: Please note the serving size listed is to be used as a guide only. Consider your own individual nutrient and carbohydrate requirements and adjust the serving size as needed. If you are unsure of your requirements consult an Accredited Practising Dietitian (APD) for individualised advice.