Which Blood Glucose Monitor is Right for You?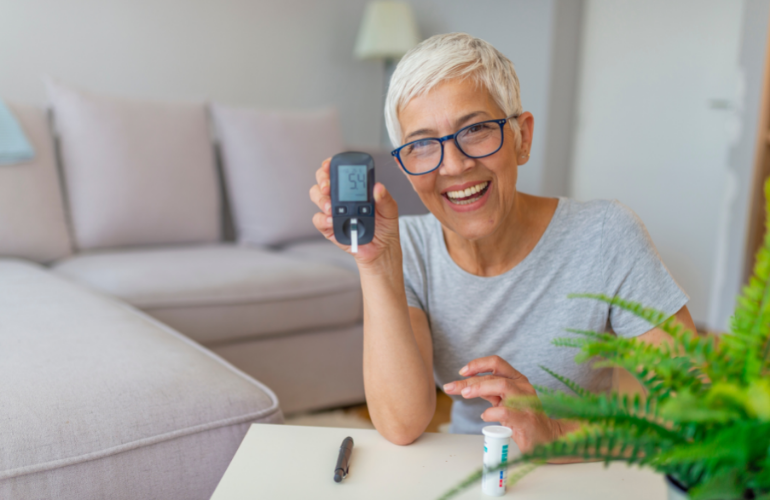 There are many blood glucose meters on the market and the one that's right for you depends on your needs. Are you looking for something small to put in your pocket, do you need to test for ketones as well as blood glucose levels (BGLs), are you vision-impaired? Let's take a look at some of the features that you might find useful, so you can make the right choice for you.
Different Features of Blood Glucose Monitors 
Meter Size
Most blood glucose meters are compact in size and easily portable but if you are after something extra slim (and stylish) you can't go past the CareSens N POP blood glucose meter. At 9.5cm x 3.5c x 1.8cm it is one the most compact on the market. But don't let the small size deceive you – its memory can hold 1,000 readings, has an alarm to remind you to check post-meal BGLs, a strip expiry alarm and a hypo indicator. It also has LCD backlighting, so is ideal if you often check your BGLs at night in low light.
Small Blood Sample Size
If you have trouble getting blood from your fingers, or you're taking blood from a young child, one feature that could be important is the size of the blood sample needed. Currently 0.3 microlitres is the smallest sample size a meter needs to measure BGL. The FreeStyle Freedom Lite is designed for people who want simple and easy glucose monitoring, that works on the smallest 0.3 microlitre sample size. It also has a large numeric display, large buttons and is larger in size, so easier to hold.
Ketone Reader
Being able to monitor both glucose and ketones is important if you have type 1 diabetes, and you can do both with the CareSens Dual, the LifeSmart 2TwoPlus and the FreeStyle Optium Neo. The Freestyle Libre Flash Glucose Monitoring reader can also be used to check finger prick BGLs and blood ketones. To help manage your data, all the meters allow you to quickly and conveniently transfer your glucose and ketone levels via Bluetooth to a compatible smartphone.
A light at the Strip Point
Blood glucose monitoring with its small strips and little ports can be extremely fiddly. Having a light at the place where you insert the strip is a handy feature as it helps guide you to where the strip needs to go. The Accu-Chek Guide meter has a strip port light, a back lit display and the strips have a wider testing area than most.
Audio Capability
If you have diabetes and impaired vision, monitoring blood glucose levels can be extra challenging. The CareSens N Voice is perfect for people with low vision as it has a talking function that reads out the result at the time of doing your BGL check. It can also read out individual results in the memory. In addition to the talking function, the CareSens N Voice has a large screen and numbers, and comes with a test strip ejector for the easy removal of a used test strip. Its curved body design also helps make it easy to hold. This meter makes checking BGLs for people with low vision that little bit easier.
Price
Meters vary in price quite considerably but the average price point in Australia today sits at around the $40-$50 mark. However, there are great meters available in the $30 price bracket if you are searching for quality at a lower price. Take a look at the LifeSmart 2TwoPlus, the CareSens N and the CareSens N Pop.
Speed of Results
Pretty much all meters give results in around five seconds, although the True Metrix Air and the Accu-Chek Guide Me advertise a four second test result speed.
Blood Glucose Monitoring Tips
Now that you've selected the right blood glucose monitor for you, follow these handy tips to make monitoring effective.
How Often Should You Monitor Your Blood Glucose Levels?
Your doctor or diabetes health professional will help you decide if and how often to monitor, what levels to aim for and what to do with your results. Some people choose to monitor before breakfast (fasting), before each meal, two hours after a meal, before bed or overnight.
Some people choose to monitor before breakfast (fasting), before each meal, two hours after a meal, before bed or overnight.
It's important to monitor more often when you're being more or less physically active, when you're feeling unwell or stressed, experiencing changes to your routine or experiencing symptoms of hypoglycaemia, hyperglycaemia, night sweats or morning headaches.
If you are starting a new treatment or medication it is also important to monitor more frequently to see how the treatment is working.
How to Use Your Blood Glucose Monitor
If you think the reading is wrong, check for the following:
Is the battery low or flat?
Have the strips expired?
Is the strip you're using correct for your meter?
Is there enough blood on the strip?
Has the strip been put into the meter the right way?
Have the strips been affected by heat or light?
Did you wash and thoroughly dry your hands before doing the test?
Did you use hand sanitiser instead of washing your hands with soap and water?
Did you have to squeeze really hard to get the blood out of your finger?
Is the meter clean?
Is the meter too hot or cold?
Is the calibration code correct?
If you are still concerned, your credentialled diabetes educator or pharmacist can help you check your meter.
Navigating Blood Glucose Monitors
Now that you're armed with these helpful features and troubleshooting tips, view our full range of monitors or the accompanying items like test strips and visit the Diabetes Shop for all of your diabetes essentials to help you manage your diabetes.