Healthy Eating Tips for the Party Season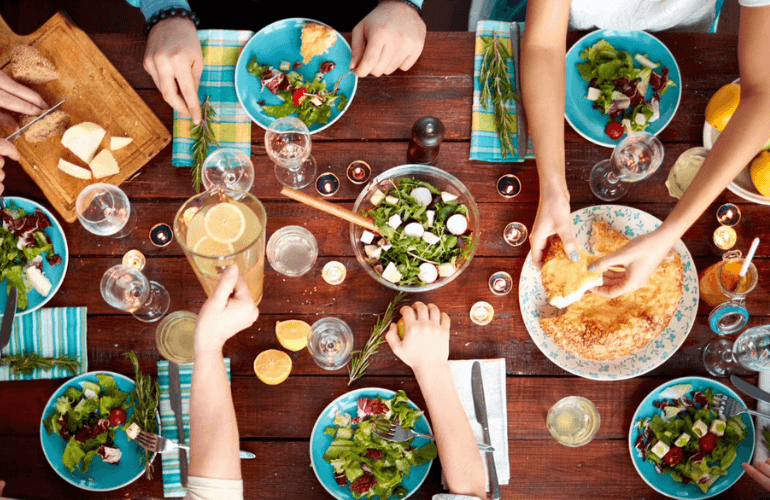 As we race through November, Christmas is just around the corner. And while Christmas is a wonderful time of the year full of Christmas parties, family gatherings and barbeques, it can also present some challenges around food. According to Nutrition Australia, Australians gain an average 0.8-1.5kg over the festive period. And most don't lose it afterwards. So whether you're attending an event or hosting an event, we've got some tips to help you through the season.
Going to an Event
Unless it's close family it's far too awkward to ask what food will be available. Avoid the question by bringing a healthier plate to share. Not only will you be a great guest but you will also know there's a healthy alternative on hand if needed.
Avoid going to a party on an empty stomach. Have a small tub of low-fat yoghurt before you leave so you won't be ravenous when you arrive. If you are already slightly full you will be less inclined to head straight for the food.
Remember the healthy plate guide. Aim to fill half your plate with salad or non-starchy veggies, a quarter with lean protein such as turkey (without skin) and the final quarter with a nutritious carbohydrate such as a grainy bread roll.
Move away from the nibbles so you don't snack mindlessly.
Drink plenty of water to stay hydrated. If you are drinking alcohol look for a light beer or add soda water to a glass of wine.
If you can, plan to have a brisk walk before or after a meal, it will help keep your blood glucose level stable.
Hosting an Event
Provide plenty of fresh fruit, salads and seafood.
Swap a creamy prawn cocktail for barbequed prawns.
Serve fresh oysters with a twist of lime.
Top cucumber rounds with smoked salmon and fresh dill.
Instead of chips, put out bowls of popcorn
Serve hummus, tzatziki and salsa dips with cut up veggie sticks, rather than crackers.
Put out lots of jugs of water and sparkling water with slices of lime and strawberries to keep your guests hydrated.
Pull out the cricket bats and a ball and have a friendly game of cricket, or create a song list, pump up the volume and get everyone dancing to burn off those calories.
Have fun!
Foodie Inspiration
For ideas on what to serve at your gathering, check out the Australian Women's Weekly Diabetes Complete Collection. In additional to recipes for breakfast, lunch and dinner it also has delicious recipes for diabetes-friendly snacks and desserts.
Looking for more ideas? Diabetesshop.com is home to a wide range of cookbooks, including vegan and vegetarian, low GI and CSIRO nutrition guides.
If you are after simple swaps to keep the family healthy and happy over the holiday season, check out the latest edition to diabetesshop.com – Feel Good Food Swaps. Created by three dietitians this book is packed with tips and information on how to make small, sustainable healthy changes to what you eat. Whether you're cooking for one, or have fussy eaters in the house to contend with, you'll find practical, easy to follow advice in this book.
From all of us at Diabetesshop.com, happy holidays!