Diabetes and Feet: 5 Ways to Take Care of Them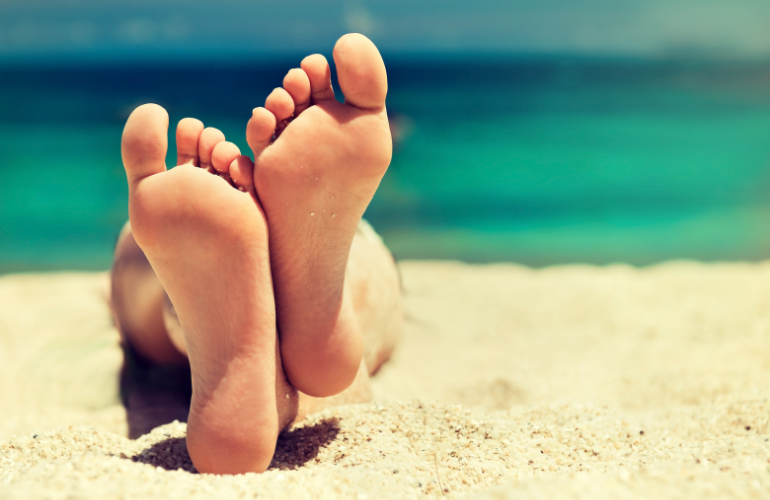 Taking care of your feet when you have diabetes is extremely important. Diabetes-related foot complications are one of the most common reasons for hospital admissions among people with diabetes, and foot complications can lead to amputations. Every year in Australia there are more than 4,400 amputations because of diabetes.
It's a scary statistic.
Diabetes can cause damage to the nerves in your feet, leading to reduced sensation. This means it's harder to feel objects underfoot, or any cuts and wounds that you may have on your feet. If a wound is left untreated it can get further infected and lead to serious secondary complications.
1. Daily Foot Inspections
Get into the habit of daily foot inspections. After a shower dry between each toe and apply moisturiser to the top and bottom of your feet and legs, but not between your toes. This helps protect against cracking. If your feet are very dry try a specialised product from the Dermal Therapy foot care range.
While moisturising, check your feet for the following:
Ulcers
Unusual swelling
Redness
Blisters
Ingrown nails
Bruising or cuts
Broken skin between toes
Callus
Corn
Foot shape changes
Cracked skin
Nail colour changes
If you find any of the above, it is important to book an appointment with a podiatrist to get it looked at as soon as you can. This will help you avoid serious complications.
In addition to visible signs, look out for the following symptoms. They can indicate poor blood supply to your feet or nerve damage.
Cold feet
Aches and pains in feet or legs after walking
Slow healing cuts
Numbness
A burning sensation
Pins and needles
Sharp pains or cramps in feet and legs
2. Protecting Your Feet
Wear enclosed shoes when outside and slippers around the home.
Check the inside of your shoes before putting them on for things that could cause an injury, such as a sharp edge on the lining.
Keep the circulation flowing in your feet by staying as active as possible. When you are sitting try to keep your feet moving to keep the muscles activated and the blood pumping.
3. Choose the Correct Footwear and Socks
Shoes
Shoes that don't fit properly can cause tissue damage or injury and should be avoided.
There are different types of shoes for different activities, but the following general features are recommended.
Firm heel to provide stability and support.
A heel height no more than 2cm.
A deep, wide toe box that allows your toes to spread naturally.
A leather upper lining is best.
Look for space of approximately one thumb's width beyond your longest toe.
Socks
Look for:
Socks made of natural fibres that allow your foot to breathe.
Seamless socks will reduce the risk of rubbing and blisters. Avoid elasticated cuffs.
White-soled socks can be useful as you will be able to see if you have a wound that is bleeding.
diabetesshop.com has an extensive collection of socks specifically tailored to the needs of people with diabetes. You will find socks to suit men and women, socks with anti-microbial properties, seamless socks, white-soled socks, socks that aid circulation and socks with extra padding for increased comfort.
4. See a Podiatrist
It is important to see your doctor or podiatrist regularly. Podiatrists are experts in looking after feet and lower limbs. Don't forget if you have diabetes you are entitled to five subsidised visits per calendar year to an allied health professional, such as a podiatrist. 
The Podiatry Association www.findapodiatrist.org can help you to find a podiatrist in your area with specialised knowledge about diabetes.
5. Attend A Foot Smart Program
Contact your local state or territory based diabetes organisation and ask out about a free FootSmart course.
Put Your Best Foot Forward
Now you have the tips to look after your feet, you can focus on being mindful about them because it's so important not to forget them. Your feet are made for walking – let's keep it that way!
For more tips, interesting articles and keeping up to date about living with diabetes, check out our latest news articles.