Blood Glucose Monitoring: How and What to Monitor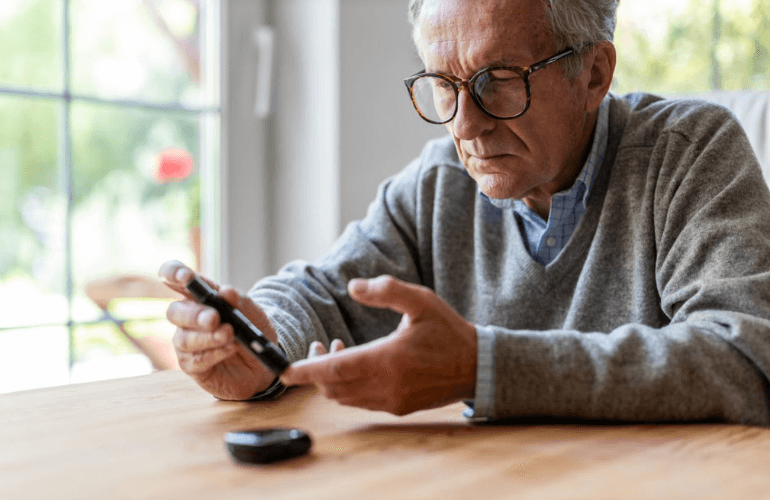 An important part of looking after your diabetes is understanding what blood glucose monitoring is, and what your readings mean for you. In this post we take a deep dive about the how and what of blood glucose monitoring, and what you may need to consider if you have additional physical ailments.
What is Blood Glucose Monitoring?
Blood glucose monitoring is a way of checking the concentration of glucose in your blood. A part of diabetes management is keeping your blood glucose levels (BGLs) within the range recommended for you by your doctor or diabetes educator. Your target and the number of checks you need to do each day will often depend on the type of diabetes you have, the medications you are taking and your age.
What affects Your Blood Glucose Readings?
Your blood glucose levels (BGL) can be affected by exercise, physical activity, medications, stress, illness, alcohol and the food you eat. By checking and recording your BGL regularly you will begin to understand the effect your diet and your lifestyle choices have on your BGLs. You will be able to see what makes your numbers go up, and what makes your numbers go down. After a period of time you will begin to see a pattern emerge and this will give you more confidence in managing your diabetes.
Sometimes, you may be surprised by your blood glucose level. If it does not seem right to you, there are a couple of things you can check:
Did you wash your hands and dry them well before you did the check?

Are the strips in-date?

Was the strip the correct one for the meter?

Have the strips been affected by heat or light?

Is the meter clean?

Is the meter too hot or cold?

Is the battery low?
If in doubt, check your blood glucose level again.
If you notice that your blood glucose patterns change or are consistently higher or lower than usual you should contact your doctor or diabetes educator. It may mean you need to change how you manage your diabetes.
How to Monitor Your Blood Glucose Levels
Factors to consider when purchasing a meter include size, ease of use, price, graphic display, and whether strips are available on the NDSS.  For more information on the different blood glucose meters available at diabetesshop.com, head to our blog.
BGM Help for People with Additional Needs
Many physical ailments can interfere with your ability to manage a meter such as decreased feeling in your hands, tremors, arthritis or changes to your eyesight. However, there are many different meters available to accommodate such challenges.
Best Blood Glucose Monitor for Dexterity
If dexterity is an issue for you, the CareSens N blood glucose meter is an excellent choice as it has an easy grip design to help make it easier to hold, and a large face with easy to read numbers. It is simple to use, with a memory that holds 1,000 readings, and a range of data averaging. It also has the option of a post-meal alarm to remind you to take a reading.
Best Blood Glucose Monitors for Impaired Vision
If you have diabetes and impaired vision, monitoring blood glucose levels can be challenging. The CareSens N Voice is perfect for people with low vision as it has a talking function that reads out your BGL to you. It can also read out individual results in the memory. In addition to the talking function, the CareSens N Voice has a large screen and numbers, and comes with a test strip ejector for the easy removal of a used test strip. As with the CareSens N blood glucose meter, it has a curved body design that makes it easy to hold.
The FreeStyle Freedom Lite also offers a large numeric display and large buttons that can be helpful if you have impaired vision. Similarly the Accu-Chek Guide Me has a large display, large buttons, wider than average strips that are easier to handle and a spill resistant container to keep your strips tightly in place.
Final Tip: Continuous Glucose Monitoring
A continuous glucose monitoring (CGM) or flash glucose monitoring device may be worth considering if your BGLs are changing dramatically or if finger pricking is very difficult and you need to keep a close eye on your levels. It is a good tool if you need to share information with a diabetes health professional. However, there is an expense attached to both products. Talk to your doctor or diabetes educator to find out if you are eligible for subsidised products.